Before you dive into major home remodeling projects, such as a bathroom remodel, it's good to know how it will affect your resale value and if you're going to get a return on your investment.
When homeowners remodel, it is usually to upgrade worn-out surfaces, finishes, and materials or because it is time for a change, to add features and improve livability.
The typical cost of 19 remodeling and replacement projects, as estimated by members of the National Association of the Remodeling Industry (NARI)
How much appeal each project is likely to have for buyers, according to REALTORS®
How much REALTORS® estimates that homeowners can recover on the cost of the projects if they sell the home.
Thirty-five percent of homeowners would rather move than remodel their current home.
The success of taking on projects, and the increased happiness found in the home once a project is completed.
Thirty-two percent of owners report the single most important result from remodeling is better functionality and livability, 21 percent report durable and long-lasting results, materials, and appliances, and 16 percent report beauty and aesthetics.
Thirty-six percent of the owners did the project themselves, 35 percent hired a professional for all of the job, and 14 percent hired the labor but purchased the materials. Twelve percent contributed some do-it-yourself (DIY) labor.
Appeal to buyers:
Complete Kitchen Renovation
Kitchen Upgrade
HVAC Replacement
New Wood Flooring
Bathroom Renovation
Hardwood Flooring Refinish
New Master Suite / Owners' Suite
Add New Bathroom
Basement Conversion to Living Area
Attic Conversion to Living Area
Insulation Upgrade
Closet Renovation
Bathroom Remodel
I love a project! I'm constantly looking for ways to update my home without breaking the bank and recently decided it was time to tackle a bathroom update. A complete renovation would cost about $25,000 but my budget was only $2,000. Here's how I spent the money.
Paint is Number One
Paint always gives the highest impact for the least amount of money. Goodbye wallpaper and dark baseboards. I had a painter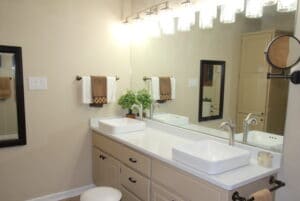 retexture the walls (I did this when I first moved in, so this was in addition to my $2000 budget) I painted with stain blocker followed by flat finish paint on the walls; oil base semi-gloss on the baseboards. Always use the best paint you can find. I used Sherwin-Williams stain blocker followed by pro-grade flat finish. The vanity cabinets were in excellent condition so I painted with an eggshell finish and new hardware.
Full Bathroom Remodel or not…please Replace the Hardware
Don't overlook the simple change that can erase decades – with a few hundred dollars you can replace the hardware. And please do it! Towel bars too!
LED's all the Way
Light fixtures LED with clear globes. Replaced the bathroom exhaust fan/fixture. The main event is the quartz countertop. I wanted a little more height to the vanity so I selected semi-recessed sinks (they're 3 1/2″ above the surface) and single-lever faucets. I actually prefer the full-view bathroom mirrors instead of the more stylish individual mirrors (although I used one of those on the wall to check myself head to toe). They reflect more light as well as improved visual.
There's not a doubt in my mind that I will fully recover the cost of this update when it's time to sell. Meanwhile, I get the pleasure of living in the space.