It is important for you have an agent who represents you in the transaction, and puts your interest first. Buying or selling a home can be a complicated process. Along the way, you'll interact with several different professionals.
Two of the key players when buying or selling a home are the listing – or seller's agent, and the selling – or buyer's agent. You need to understand the difference responsibilities so you'll know what to expect when it's time to buy or sell.
What Does a Listing Agent Do?
A listing or seller's agent helps homeowners sell their homes.
Their responsibilities are mostly separate from the responsibilities involved with purchasing, so their day-to-day workflow is different than when that same person is acting as a selling agent. Their responsibilities include:
1. Writing the Listing Agreement
The listing agreement is the contract between the homeowner and the listing broker/agent. It authorizes the agent to offer the property for sale and outlines the commission structure and responsibilities that agent will take care of throughout the process.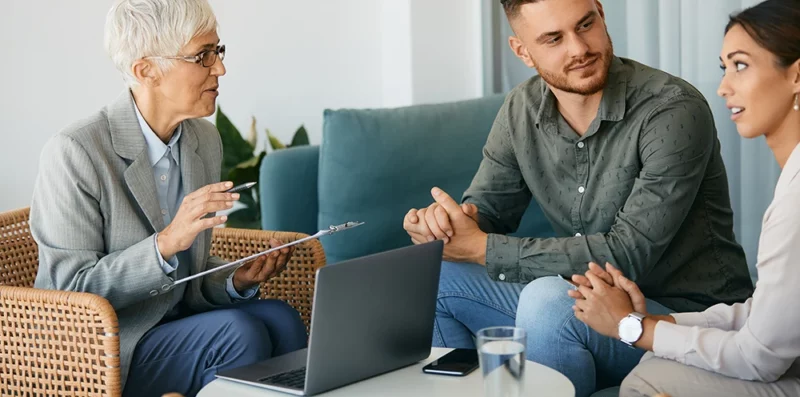 Before your listing agent officially starts work, they will put together the listing agreement with your input. Once you've agreed with those terms and conditions in the listing agreement, you'll both sign it and get ready to list your home.
2. Completing the CMA and Pricing the Home
Because the real estate market is in constant fluctuation, pricing your home can be a complicated endeavor. However, your listing agent has the knowledge and resources to calculate an accurate price for your home in the current market. They'll complete a comparative market analysis, or CMA, which will help them determine a fair price for your home based on similar properties in the area.
3. Marketing the Home
Attracting buyers is one of your listing agent's most important jobs.
There are many different methods for preparing a house for the market, and some may be more involved than others in staging or getting your home ready for showings. It is common today to have high-quality photos of the interior and exterior of your home in order to create an appealing listing. They may also host an open house so that buyers can see the property in-person.
4. Negotiating and Closing the Sale
Your listing agent should be an expert on negotiating home sales. They should know what a reasonable offer is for your neighborhood, and they should be able to negotiate effectively at your direction, without losing out on an offer. Once you're ready to accept an offer, your Realtor® will walk you through the closing process and will assist you in gathering the documentation needed to follow through with the sale.
Learn more about what to expect from your listing agent
What Is a Selling/Buyers Agent?
A selling agent helps people find and purchase homes. This is known as buyer representation, and they work with buyers from the early stages of the process until they've closed on their new house. Here are the main responsibilities:
1. Searching for Homes That Meet the Buyer's Criteria
Most home buyers have a general idea of what they're looking for in a house. You probably have some criteria regarding location and size of home. Your buyers agent has access to multiple listing services, which include

detailed information about available homes in your area.
Based on your criteria, they can narrow down the search and find houses that best fit your needs and price point.
2. Touring Homes With Buyers
Your selling agent will get access to homes and accompany you to see them. They are real estate experts, so they'll offer valuable information and advice while you evaluate the homes.
Often times, they can point out red flags in properties that prospective buyers don't notice on their own. They can also point out the favorable qualities in a house that may go overlooked by the layperson.
3. Making and Negotiating Offers
They are experts at negotiating. With buyer representation they can help you get the best deal on a property by making an offer that's appealing to the seller yet not excessive. If you end up in a bidding war with another buyer, they can help you navigate the process, and they'll advise you when it's time to move on and search for another home.
4. Connecting the Buyer With Other Professionals
After you are successful with an offer, you'll need the services of several other professionals, including a mortgage lender for a home loan, a home inspector to check for problems with the property, a title company, and other entities.
Your buyer's agent is familiar with all of the steps that go into buying a house, and they probably know the best people in your area to work with. They can connect you with the professionals you need and help to streamline the process.
Intermediary
In rare cases, one Realtor® acts as the listing agent and the selling agent for a home sale. Known as intermediary, this can make the experience faster and easier for both the buyer and seller.
They must remain completely neutral without disclosing confidential information to or from either party and they must treat both parties honestly and fairly. The disadvantage is that this can restrict their help with negotiation.
The Bottom Line
The selling agent and listing agent both play key roles in the sale of a home, but their responsibilities differ greatly. Both strive to make the experience as easy as possible for their client, be that the buyer or seller, and both try to get the best possible deals for their clients. Some Realtors® primarily work as one type of agent, and some offer both services.
If you're looking for a Realtor® to represent you when buying or selling a home, the most important thing is that you work with someone you feel comfortable with and trust.