What's the First Thing You Should Do After A Home Purchase? Think Safety!
Getting the keys to your new home should be a reminder: IT'S TIME TO CHANGE THE LOCKS!
Remember to handle the most basic safety precaution for your new home.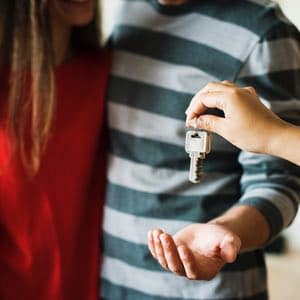 When people buy homes, there's a tendency to think "Big Picture" on home improvements. Flooring, painting, and furniture are common "just-moved-in" purchases, as are cable television and utility packages.
SMALL PRICE FOR YOUR SAFETY
The most important move-in purchase is for your safety, though, it may also be the least expensive — rekey your locks and install deadbolts for your doors.
Every home has at least one — and sometimes up to a dozen — keyed points of entry. And until you change those locks, there's no telling just how many people may have access to your home.
For example, your home's prior owners may have shared house keys with any/all of the following people :
Real estate agents
Neighbors and friends
Parents, brothers, and sisters
Home cleaning service
Dog walkers and pet sitters
– and no telling who else!
Those keys will still gain entry into your home until you change the locks. This is why your first act homeowner should be for your safety, to replace all your home's keyed entries with new locks and/or deadbolts.
LOTS OF LOCKS TO CHOOSE FROM
Locks and deadbolts come in a variety of designs and finishes, with varying price points. A basic single-cylinder, keyed deadbolt costs less than $20, and a powerful digital-entry, the keyless system sells for $200-plus. There is a bevy of models at prices in between, too.
Regardless of which lock system you choose, don't procrastinate on installation. Ideally, your locks should be changed on the same day of purchase, as close to closing's completion as possible.
Hardware stores carry most deadbolt varieties and many can be installed with just a screwdriver. For complicated installations, talk to a locksmith.
Now is the perfect time to decide if you want a security system (read reviews) monitored by others, aRing Doorbell or similar product that you can keep an eye on your house from your cell phone, or other more advanced safety systems.

Do you need a real estate broker? Meet Our Team!